ICSEB, 18 Juni, 2015
Das Institut Chiari & Siringomielia & Escoliosis de Barcelona freut sich, Ihnen mitzuteilen, dass sich im laufenden Monat Juni die Veröffentlichung des Artikels mit dem Titel "Results of the section of the filum terminale in 20 patients with syringomyelia, scoliosis and Chiari malformation" in der anerkannten ZeitschriftACTA NEUROCHIRURGICA,der offiziellen Zeitschrift der Europäischen Vereinigung der Neurochirurgischen Gesellschaften, von dem aus Barcelona stammenden Neurochirurgen und Leiter seines Teams, Dr. Miguel B. ROYO SALVADOR, zum zehnten Mal jährt.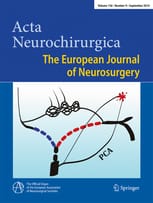 Ebenso möchten wir berichten, dass unser neurochirurgisches Team am 16. Juni 2015, gerade zu diesem bedeutenden Jubiläum, bei der Zahl von 1000 Fällen von am Filum terminale operierten Patienten angekommen ist. Alle Patienten wurden anhand der in der Filum System® Methode beschriebenen minimal-invasiven Technik operiert.
Nach diesen zehn Jahren harter Arbeit und die Gelegenheit zum Anlass nehmend, hat die Verlagsabteilung des Institut Chiari & Siringomielia & Escoliosis de Barcelona das Privileg Ihnen das erste Video über die Filum-Krankheit präsentieren zu können. Es handelt sich hierbei um die Krankheit, der wir uns auf so hochspezialisierte Weise widmen; der Film veranschaulicht die gemeinsame Ursache des Arnold Chiari I Syndroms, der idiopathischen Syringomyelia und der idiopathischen Skoliose.