Published by ICSEB at 7 November, 2008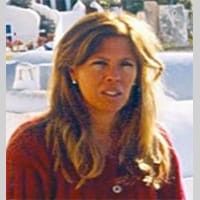 Date of intervention: November 2008

Hello my name is Maria Teresa Sanz Belomonte, I am 45 years old, I suffer from Arnold Chiari I Syndrome and this is my story.
In the year 200, I suffered a terrible car accident in which I fractured my dorsal vertebrates in D-2D3-D4. I recovered well at a traumatologic level but since then I started to suffer from numerous dorsal and cervical contractures. I also started to have repeatedly headaches and positional dizziness until the peripheral dizziness attack started, it was horrible and I even had to be hospitalized to be stabilized. They put me under treatment with "Torecan" and "Serc" for the dizziness and "Myolistan" for the dorsal contractures but they did not know how to diagnose me, they simply sent me back to the traumatologist.
Since then, it has been a constant beginning of treatments (pills), X-rays, MRIs… but always for my back: dorsal, cervical, lumbar and sacrum. They did find discopathies but were not important enough to justify the symptoms that I suffered, so the solution was to keep taking pills.
In October 2007 I suffered another peripheral dizziness attack that left me in bed for four days barely without being able to move. My physical deterioration during these seven years was evident but the doctors blamed the stress and anxiety and probably they were right about it, I was stressed and anxious because I was feeling worse every day and no doctor was able to tell me what was wrong with me.
In July 2008 Doctor Jorge from the benefit society of the company where I work at, I requested her an MRI of the brain and this is when they diagnosed me the Syndrome of Arnold Chiari I. I went right away for a visit with a neurologist that confirmed the diagnosis and sent me urgently to a neurosurgeon.
In that moment my symptomatologies were:
• Strong headache.
• Fatigue.
• General unbalance.
• Dizziness.
• Tension in my neck.
• Back pain.
• Spots in my vision.
• Insomnia.
• Continuous dizziness.
• Entotic sound sensations in my head.
• Lack of sensitivity in my hands and shakiness.
• Difficulty in swallowing.
• Abnormal Babinski reflex, which indicates damages in the nerves that connect to the spinal cord and brain.
Once the medical appointment was made with the neurosurgery service with the social security and the waiting time until they gave it to me, I started to search information by internet referring to my illness and overall how could I get cured.
In resume, the treatment had to be surgical and I found two options that I referred to as Classic and Alternative.
Classical surgery: By Social Security. CRANIOTOMY (occipital decompression).
It consists in opening the skull from the neck up to the high level of the head, fix " I think" the first two cervical vertebrates, remover part of the occipital bone, reach the cerebellum and rise it to its upright normal position. By my point of view it seems a savage thing to do and did not guarantee you a success since it only decompresses and does not solve the cause of the problem.
Alternative surgery: Institute Chiari of Barcelona. Section of the Filum Terminale.
The filum terminale is a ligament which maintains the spinal cord united to the sacrum bone that provokes tension on itself. If the tension of the filum is excessive it can cause a traction in the spinal cord and the cerebellum with it which is found in the opposite extremity. It can as well provoke an abnormal circulation of the cephalorachidian liquid.
The intervention is very simple and consists in sectioning the filum terminale at the level of the Sacrum and the problem that causes all my suffering is solved.
Evidently the second solution I found, became the first and I called to program a medical visit in the Institute Chiari of Barcelona.
I visited Dr. Oscar Cardone and afterwards Dr. Miguel Royo Salvador. They listened to me, they examined me with a complete neurological exploration, they confirmed that all the symptomatology I presented was caused by the Syndrome of Arnold Chiari I and they explained to me all kinds of details, the surgery technique they used, what it consisted of, how they developed it and its results. When I came out of there I had already decided to have the surgery done by them. Three weeks after that, this passed November 18th 2008 I was operated in the CIMA clinic.
The Result: 6 hours from the operation I did not notice the pins and needles in both hands anymore. At the next day I recovered all my sensitivity.
After three days my hands stopped shaking, the tension in my neck and the cervical contractures disappeared.
After 14 months I have stopped getting dizzy, I have not had any headaches and I recovered my stability. IT HAS ONLY BEEN EIGHT DAYS FROM THE OPERATION.
There are no words to describe my gratitude to Doctor Royo and to all his team for what they have done for me.
I only hope that my experience will be of use to other people to inform them about the benefits this surgical technique has and even if they do not recover 100 % of the damage that this illness has already caused them, they know it will NOT progress anymore.
As an anecdote I will make a comment, that after two days after having the surgery done, I received a letter at home from the Social Security giving me an appointment for a visit with a neurosurgeon for June 15th 2009. NO COMMENTS.
If you want to contact me to comment any doubts you have, you can write me an e-mail at: [email protected]
Sincerely.
M.Sanz.