Last update: 02/05/2019, Dr. Miguel B. Royo Salvador, Medical Board number 10389. Neurosurgeon y Neurologist.
Definition
A vertebral dislocation is defined as a bone moving out of its place. When it affects the spine, the vertebral dislocation allows the spine to move out of line, with ligament and vertebral fractures that produce instability of the spine and prevent from carrying out the usual movements.

Depending on where the vertebral dislocation occurs, it can be defined as:
Atlanto-axial
Cervical
Thoracic
Lumbar
Sacral
Coccygeal (coccydynia)
---
Symptoms
The symptoms that a vertebral dislocation can cause vary based on:
The affected vertebral area
The innervation of the area
The activation of pain transmission to the nerves of the area
The consequent inflammation
The compression of adjacent vascular or nervous structures.
The symptoms that can be generated by a vertebral dislocation are mainly pain in the affected area and/or alteration of sensitivity and of the corresponding functions and of the contiguous nervous structures.
---
Diagnosis
A vertebral dislocation is an injury that prevents vertebral ligaments from holding together bones or vertebrae and joints in their place, producing their separation or misplacement. This separation can be observed through an X-ray, a Computed axial tomography (CAT) or a Nuclear magnetic resonance (NMR).

The specialist indicates the necessary radiological and imaging tests based on the clinical history and physical examination, when suspecting a vertebral dislocation.
---
Cause
In general, a vertebral dislocation is produced when the movement of the joint – among bones, vertebrae or apophysis – is overstretched. This usually happens with falls and accidents, sudden and excessive movements, or any trauma (with or without external forces) that involves an excessive stretching of the vertebral joint.
---
Risk factors
As consequences of accidents and traumas, vertebral dislocations' probability increases with:
Practicing impact or extreme sports, or any activity that increases the possibility of incurring trauma at any spine level;
Predisposition to falls: when suffering from other conditions, mainly neurological or spine-related, that predispose to falling, the probability of vertebral dislocation increases as well;
Family history: people with more flexible ligaments, due to hereditary characteristics, may be more prone to having dislocations than others.
---
Complications
The complications of a vertebral dislocation in general consist of the aggravation of the symptoms, with the consequent worsening of the patient's quality of life (for example with paresis, paralysis or partial or complete loss of sensitivity). The persistence of a dislocation can also damage the nerves, the spinal cord or the blood vessels around the dislocated joint.

The vertebral dislocation that can incur in the most severe complications is the atlanto-axial one, which involves the separation of the odontoid from the surface of the atlas with which it forms the joint. In this case, as in the more severe cases of cervical dislocations, this can compress the spinal cord and produce neurological or vascular lesions, even sectioning the cord and causing death. Therefore, as soon as it is diagnosed, this dislocation is usually intervened.
---
Treatment
– The conservative treatment for vertebral dislocations in general consists of vertebral immobilization and administration of anti-inflammatory medication and painkillers, avoiding overloading the spine with weight, reducing physical strains, doing physiotherapy, etc. In some cases this can help to improve, but is rarely completely effective.

– In most cases, due to the compression of the nerves or the risk of it, the indication is of surgical treatment by instrumented arthrodesis. This surgery performs a permanent fusion of two or more vertebral segments, in order to prevent them from moving.
---
Results
At our centre we apply vertebral arthrodesis with grafting, prosthesis and instrumented, a surgical technique that has excellent results in most cases and a minimal complications rate.
Example
-Caso No. 312
16-year-old patient with a dislocation between the second and third cervical vertebra, after suffering a trauma when playing football. Operated with excellent results (Fig.1,2,3,4).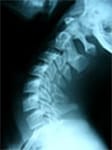 Fig.1 Profile x-ray with no anomalies.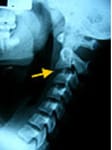 Fig.2 Cervical flexion x-ray. The arrow indicates the dislocation level.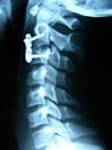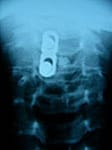 Fig.3 and Fig.4. X-ray showing a titanium plate with holes and screws that fix the second and third cervical vertebrae, where the central portion of the fractured intervertebral disk was previously removed and replaced with a hydroxyapatite graft.
---
References
Chechik O, Wientroub S, Danino B, Lebel DE, Ovadia D. (2013) "Successful conservative treatment for neglected rotatory atlantoaxial dislocation.", Journal of Pediatric Orthopaedics, 33(4), pp. 389-392.
Iizuka H, Iizuka Y, Kobayashi R, Takechi Y, Nishinome M, Ara T, Sorimachi Y, Nakajima T, Takagishi K. (2013) "Characteristics of idiopathic atlanto-axial subluxation: a comparative radiographic study in patients with an idiopathic etiology and those with rheumatoid arthritis.", European Spine Journal, 22(1), pp. 54-59.
Ordonez BJ, Benzel EC, Naderi S, Weller SJ. (2000) "Cervical facet dislocation: techniques for ventral reduction and stabilization.", Journal of Neurosurgery, 92(1), pp. 18-23.
M. B. Royo-Salvador (2014), "Filum System® A Brief Guide".
Sun Y. Yang, Anthony J. Boniello, Caroline E. Poorman, Andy L. Chang, Shenglin Wang, and Peter G. Passias (2014) "A Review of the Diagnosis and Treatment of Atlantoaxial Dislocations", Global Spine Journal, 4(3), pp. 197-210.
---