Programme 
Morning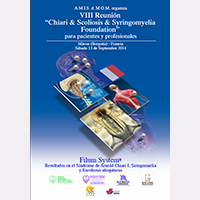 8.30 h. Opening.
Introduction Mrs. Estelle Lussiana, president of A.M.I.S d M.O.M together with supporting associations: Cœur Solidaire, Philippe Barth; Apotropaïque, Joanna Gall. And the participation of AI.SAC.SI.SCO from Italia, Marisa Toscano and Dr. Francesco Crocè.
9.00 h. Presentation by Dr. Miguel B. Royo Salvador, Neurosurgeon y Neurologist. Director of the "Institut Chiari & Siringomielia & Escoliosis de Barcelona".
Filum System®, Outcomes in Arnold Chiari I Syndrome, Idiopathic Syringomyelia and Idiopathic Scoliosis.
10.45 h. Coffee break.
11.00 h. Presentation by Mrs Gioia Luè, Psychologist. Surgical Patient Care at the "Institut Chiari & Siringomielia & Escoliosis de Barcelona".
Filum System ®, clinical cases: the patients' quality of life before and after the application of the sectioning of the filum terminale.

11:30 Presentation by Centro Mantias's Dr Roberto Mantia, orthopaedist, and Dr Marco Di Gesù, neuro-rehabilitator. Filum System ® – The rehabilitative approach and experience of the "Centro Medico Mantia".
12.15 h. Debate and questions.
13.15 h. Lunch break.
Afternoon
15.00 h. Consultations (diagnostic orientation for new cases). Interested participants will have the opportunity to bring along their clinical documentation (copies of CDs with Magnetic Resonance Images and copies of medical reports).
Dinner for those who wish to stretch the weekend.
Get-together with entertainment organised by "A.M.I.S d M.O.M"
Possibility to reserve through websites (see inscription form).
The programme may be subject to change.
Place of the Meeting::
Maison Mâconnaise des Vins
484 Avenue Maréchal de Lattre de Tassigny
71000 Mâcon, France
==================================================
RESERVATIONS
We kindly ask you to confirm your registration (limited availability). Attendance is free of charge.
To join lunch, dinner and to book a hotel stay, it is necessary to make a reservation and pay the registration fee to cover expenses before 21 August 2014 by bank transfer.
1. Registration forms can be found under the following links:
2. Please send the registration form to attend the meeting and the meals to the following e-mail address: [email protected]
For further information please contact:
In French:  Mrs. Estelle Lussiana: +33 6 07 44 66 68
In Spanish, Catalan, Italian, English and other languages: +34 932066406 / +34 932800836.