Published by ICSEB at 21 February, 2019
It has been two years and two months since my son (who is 24 years old) underwent the Sectioning of the filum terminale at the Institut Chiari de Barcelona. I would like to thank Dr. Fiallos for performing my son's surgery, and Ms. Yuka Takahashi for mediating between the doctor and the patient. I'm also grateful to Dr. Royo for having established the method and to the entire ICSEB team. Thanks to you all, my son has recovered and been able to go back to work. I thank you with all my heart.

Since my son was born, I almost never took him to the doctor, just for some colds or flu. However, after a traffic accident at the age of 18, he began to have tingling in the upper left limb, general weakness, loss of strength in his hands and loss of thermal and pain sensitivity.

During a medical consultation, he was diagnosed with Idiopathic Syringomyelia. As time was passing on, the lower back pain got intense and he began to experience difficulty while walking. Then his doctor started to suspect a disc herniation, but he only prescribed analgesic treatment and periodical check-ups. Meanwhile my son was getting worse both physically and mentally.

I searched the internet for information on hospitals that could solve my son's problem and I found the Institut Chiari de Barcelona's website. In Japan, my son underwent a Syringostomy when he was 19 and his doctor told us that a reintervention may be performed if necessary. I know that the shunting of the syringomyelia cavitation is quite a risky surgery, but at that time I thought the nervous system would not recover if the symptoms kept getting worse. So we opted for that surgery. However, after undergoing another surgery like that in the cervical area, my son could end up in a wheelchair.

Looking for information about the Sectioning of the Filum Terminale (SFT), I was very surprised to find out how different two interventions (Syringostomy and Sectioning of the Filum Terminale) for the same condition could be in terms of: surgical area (Syringostomy is performed in the cervical region, while the SFT in the coccyx area), duration of hospitalisation (two weeks VS one night), invasiveness and risk of the surgery (ending up in a wheelchair VS hospital discharge the day after surgery and full mobility).

Since we decided to proceed with the Sectioning of the Filum Terminale, we began organizing in detail our journey to Barcelona: money, passports, flights, hotel, etc. I was worried about travelling with my sick son without any companion, but every time I had difficulty, I could ask Ms. Takahashi for help.

Since we live in Kansai Region (in Western Japan), we flew from Kansai International Airport and we arrived in Barcelona via Helsinki (Finland). As it was the first time we left the country, we chose the flight with the shortest route and Japanese cabin crew. The day before the trip we stayed in a hotel near the airport and we left the car there for a couple of weeks, so we could move with three suitcases without any problem. Before travelling, we rent a portable Wi-Fi to be able to use our mobile phone and we also look for a currency exchange office with lower commission.

Through a travel agency, we booked a room at Hotel Atenea, because it has rooms with a kitchen (we also asked for microwave and kettle for our room). We chose this hotel because we could go walking to the Institut Chiari de Barcelona, there is a shopping mall in front of it and a football stadium nearby. The hotel has Japanese staff that works some days of the week and left us a note in Japanese: " I am at your disposal for anything you need". While they were cleaning, we went for a walk and to the self-service laundry, walked around the football stadium or went sightseeing.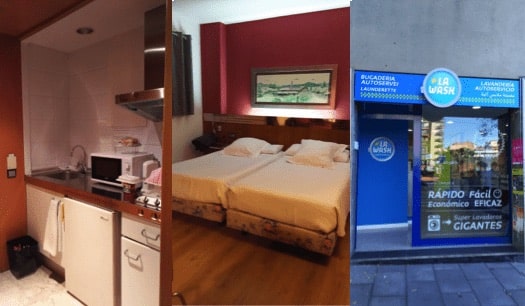 We were not worried at all about the communication in Japanese, because Ms. Takahashi mediated between the doctor and my son during the visits, the preoperative test and the surgery.

She came with us to the pharmacy to buy medicines and it was a great help. Furtehrmore, we had a Spanish/Japanese book with drawings of typical scenes with phrases that a tourist may need. We just had to point the words with the finger, they understood us and it was very useful. Also, we used a translator app.

The surgery's cost was not covered by the public insurance, but the private insurance reimbursed part of the cost. We asked Ms. Takahashi to fill out the private insurance form and she gave it to us before we went back to Japan. My son, who had experienced discomfort for a long time, started to feel better after the surgery. Now he is more active and could go back to work. Thanks to all the Institut Chiari de Barcelona's Team! Thank you so much!