Published by ICSEB at 7 December, 2017
Testimony update:
21/06/2017

Nicholas's Magnetic Resonance Images
Previous to the SFT according to the Filum System®
After the SFT according to the Filum System®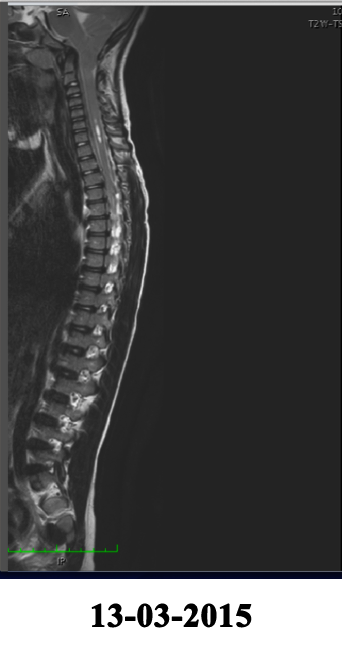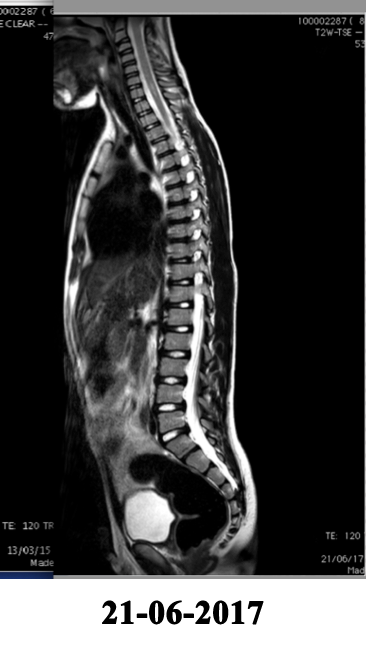 The most recent MRI reading indicates: "currently an obvious decrease of the small hydro-syringomyelic cavity between C6and T1 can is observed".
---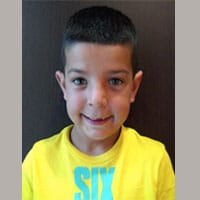 Surgery date 5/7/2012

Hello everybody, my name is Nicholas, I am a six year old boy and I live in Milan.
When I was three years old, my parents found out that I had a rare disease, the Arnold Chiari I, with Syringomyelia.
My Mum and Dad broke down, they took me to see many doctors, they also contacted many of them by phone, email, etc…but they all said that I would have to undergo a craniotomy and that was the only type of surgery that would solve the problem. My Mum and Dad did not settle for this, they absolutely wanted and had to find a different solution.
And then some day they came across the Institut Chiari de Barcelona, they took me there for an appointment during which Dr Royo said that was necessary to proceed urgently to a surgical Sectioning of the Filum terminale procedure.
I have to admit that in my mother was quite sceptical in the beginning; she did not believe that the surgery was useful. Then she decided to contact many Italians who had already undergone the surgery.
After talking to a lot of people, my parents decided that they would put me through surgery, and I went for the procedure on 5 July 2012.
I checked into the hospital the previous night and at almost ten o'clock in the morning they took me to the surgery room; I was crying a lot because I had to leave my parents behind, but frankly, the surgery di not even last an hour, and was able to hug them again shortly after.
Not long after, many of the symptoms that I had improved: I did not urinate in the bed during the nights anymore, I did not fall over, my sleep apnea went down by half, and also the sound of my voice improved.
Nowadays I lead a normal life, I am going to school, I play football and above all, I never stop, I run, jump and quarrel with my sister.
On 13/03/2015 I had the annual check up MRI done, and what can I say, it is unchanged, I have not gotten worse and hope to continue this way!
On 1 July 2015 I went to the check up appointment, I they noticed that my left arm does not respond well to the reflexes, that is because of the syringomyelia, we so not know whether since before the surgery or after, because you have to know that before I did not let them do the physical examination, I was little and every time I saw a doctor I started to cry. So, I did not have a previous physical examination, and the doctors do not know when it happened, but generally speaking, everything is going well, I have a normal life for a seven year old boy.
For the time being I thank Dr Royo, Mrs Gioia Luè and the entire team for the professionalism and kindness.
A special thank you to him, a man, an outstanding physician, Dr Royo, who has dedicated all his life to studying this condition, and thanks to him, people like me have a better and dignified life.
And now I would to speak to you, the patients: do not give up hope ever, resist, because only strength and hope help to continue, and do not quit smiling, because life is beautiful and above all, only one, so enjoy it!
Bye, everybody!
Nicholas Amico
Contact with my Mum for any information: Elena: +39 327/1887662