Published by ICSEB at 8 July, 2010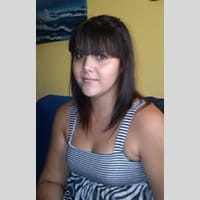 Date of surgery: July 2010

Hello to everyone, my name is Omara, I am 14 years old and come from Cartagena. Before anything, I hope that my testimonial will be helpful to all of you who suffer from the vertebral column and encourage you to not loose your hope. If you do not feel well, then I recommend you to visit Dr. Royo who always has a master key for all.
So, I will tell you now about my particular story:
More or less when I was 9 years old, I started having back pain, at the beginning, these were bearable and we usually think this happens from a big effort we make or something else but after time went by, the pain increased and prevented me from having a normal life.
Last year, my parents took me to see Dr. Royo so we could have his opinion since my father is a patient and admirer of Dr. Royo and was operated on two occasions and he is grateful to him, you can find his testimonial also in this page, his name is José Juan.
This is very important:
Apart from the back pain and idiopathic Scoliosis, I had a problem that worried me quite a lot. I was bed-wetting during the nights, so my parents took me to a psychiatrist. Dr. Royo then mentioned that if he confirmed the diagnosis with MRIs, he could solve my problem by operating on me. This was something that surprised us both my parents and I, he gave us a possible diagnosis of Arnold Chiari I Syndrome, so he sent me to have MRIs done to confirm it.
What is real surprising to us, is that the MRIs I had done in my city were seen by a radiologist who told us nothing was wrong with me and that I should not worry about anything, that I was fine.
So, we took these MRIs to Dr. Royo and his doubts were confirmed, I suffered from Arnold Chiari I Syndrome. He told me I had to go through the surgery of the section of the filum terminale , which was of minimal risk and that it was all going to be okay. I was very scared but Dr. Royo, his team as well as my parents convinced me to go through this surgery.
On July 8th 2010 Dr. Royo operated on me. The surgery was fast and my recovery went well, what impressed us is that from the same day of the surgery, I haven´t wet my bed at night anymore, which for me was very important. The rest of my problems disappeared.
I would like to thank Dr. Royo and his team for the way I was received by them.