Published by ICSEB at 3 March, 2007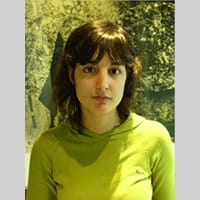 Date of intervention: March 2007

Hello, I am 21 years old and a patient of Dr Royo, that suffers Arnold Chiari I Syndrome, Syringomyelia and Scoliosis and with luck i found out that i had all of these before noting the symptoms.
From when i was a little girl, i was always complaining of headaches and later arrived a moment where my parents made case and took me to a pediatric just in case, and the pediatric recommended me to drink more milk. As well as i also complained of a backache, and for that reason they took me to a traumatologist and he found that i had escoliosis.
When I was older, around about 18 years , i was studying to make the selective and i noticed like i was like floating, it didn´t reach my head, but i noticed myself rarefied and it did not allow me to centre myself. I went to the Doctor, and i had a contracted muscle caused by stress, it seemed logical, however in less than 2 months i returned having other muscular contractions, it was August, and all my concerns had ended and i was more relaxed, they requested that i have a Magnetic Resonance done and i went and it is when they discovered i had Arnold Chiari I Syndrome and Syringomyelia.
From there on they sent me to a neurosurgeon, they examined me and confirmed the diagnosis, i didn´t have no other symptom and all the tests came back perfect. Speaking with other people about the topic, they recommended us to go to Vall D´hebron hospital. The new Doctor recommened not to wait and to operate as soon as possible. After a long time waiting at last they called me, and they did tests, the doctor told me what the operation entalled and that the whole process would take 4 months.
My parents like I,were terrified, and they didn´t stop to look for information at all costs possible. Thanks to his insistence, my father found on the internet a web page, Institute Neurologic Barcelona, he asked medical friends to assure him that it wasn´t anything strange and with alot of caution and with little precision they told me, at first i didn´t understand it very well, but the fact that they did not have to touch my skull and that the process was so very invasive made me think that it wasn´t a bad idea to go and visit him, (doctor Royo). When i went to visit, i was stubborn in front of the Doctor, it seemed very strange to me that there was so little information on the web about this operation, and that he was the only one that did this intervention and above all that it was so different to what other doctor had told me. I went with hope and left with more hope than when i entered.
In little more than a month I had the operation and as soon as i could open my eyes i saw my parents entering the room and they already had begun to notice changes in me, I began to notice things little by little and as time went on i realized others, not even realizing that they were caused by the disease.
I think that its cruelty how the other doctors operate(intervene), and injust for the patients to recieve such little information about possible techniques that are so good and very effective like this one (of doctor Royo) and for that reason i have written this testimony and to offer advice to all those that want to recieve it.
E-mail: [email protected]