Published by ICSEB at 20 April, 2004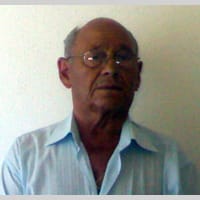 Date of intervention: April 2004

From here, I desire to thank Doctor Royo for the intervention that I had on the 20th of April 2004, of which I am very satisfied with the result- When I entered with 72 years I couldn´t hola a single object with my right hand due to the lack of sensitivity, and as of today and alter the intervention, with 74 years, I have recovered a 80% of mobility and sensitivity. I animate to all the people who are indecisive to decide to visit Doctor Royo, who like I, do not repent yourself.
Generoso Rodriguez Ramallall
E-mail: [email protected]
Informative Note from INB
The patient Generoso Rodríguez Ramallall was visited in a service of Neurosurgery at the General Hospital of the Social Security Barcelona, with a special interest in Syringomyelia, before cervicalgias radiated by the right superior extremity with sensative alterations in the hand in form of hypothesia to the tact, temperature and deep sensitivity. Determining a hand that did not recognise objects, did not notice the heat and with less tact of the normal one. They diagnosed Syringomyelia and impresion basilar. At the hospital, they propsed him to suppress the odontoides apophysis surgically. This apophysis belongs to the second cervical vertebra that sustains and allows the turn of the head. Followed by th colocation of a halo of the craneal traction to maintain the head.Spent a year with a craneal halo, they fixed the first two cervical vertebras by means of a surgical posterior fixation.
The patient remembered that 18 years ago he had partial paraylisis caused by right HEMICUERPO, and he recovered the day after, after the extraction of the cervical hernia discal performed by Dr Royo. He went to the practise , where they informed him in detail of his disease and of a new solution with the surgical section of the Filum Terminal. Five hours later after the intervention which lasted 30 minutes , the patient made a spontaneous demonstration of the recovery of the lost ability in his right hand,in the corridor at the hospital,he was extracting from his pockets objects that he identified without seeing them.
A year later we had an interview performed by Sr. Generoso Gonzalez and his wife together with Dr. Royo through the radio stations ´ Onda Cero´ in Barcelona. Mr Rodríguez Ramallall´s wife asked: Why is this intervention not done by the Social Security ? That was the reason why they vetoed Dr Royo, having known that there were 2 interviews already programmed.