Published by ICSEB at 10 April, 2012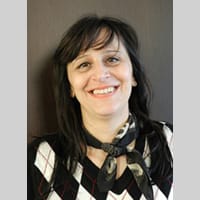 Date of surgery: November 2011
My name is Marialuisa Tripodi. I am 47 years old. In 2005 I found out that I was suffering from Syringomyelia from Arnold Chiari Syndrome but my problems originated long before….
And after my second pregnancy, in 1993, I began to suffer rare disorders: frequent sores in the oral cavity, long seasons in which fatigue was so strong that it used to take away all the desire of anything, and swelling appeared on coccyx level. The years passed by and chronic fatigue increased, the time spent on the couch became increasingly longer, so that friends teased me telling that I was a chronically lazy person.
Later the frequent headaches from which I was suffering since my adolescence increased accompanied with sharp pain in the neck.
I started doing physiotherapy, but strangely, during the treatment, in place of improving I was getting worse. My rehabilitator, a very attentive professional, stopped the treatment and asked me to perform a MRI when reaction to the physiotherapy didn't seem correct….and this is how I discovered the origin of my problems.
I started visiting many neurosurgeons, but according to them I was asymptomatic, hence they didn't recommend the surgery in my case. At the very same time my problems were increasing. I was a person with a spirited and energetic character but I became the showdown of myself. Everything became very heavy for me, I started having numbness in hands and feet, especially on the left side, I constantly stumbled which was increasing frequent, I choked while eating.
In 2008, my family doctor contacted me. He asked if I could contact Dr. Crocè, his companion of consultation, who had discovered that he had the same disease. At that meeting we realized we had a very similar picture of clinical symptoms.
After a while he (Dr. Crocè) underwent the surgery of the Sectioning of Filum Terminale by Dr. Royo, with the results that can be read in his testimony. But I was indecisive. My disorders increased, I began to suffer frequent intestinal cramps, apparently without any cause. In an ophthalmologic check-up I was diagnosed with a reduced visual field and I was asked a series of tests in order to assess the existence of other problems. All tests were negative but the vision worsened. My family doctor kept suggesting me to go to Spain after the positive result of the surgery of Dr. Croce but I didn't dare. At the beginning of last summer I was surviving, my constant sensation of living was of "dragging myself", I suffered chronic contractures around the thoracic and lumbar segment and the "tortures" that I had to went through to relieve pain helped me only for a few days. I contacted two other neurosurgeons. I did not want to go abroad or have surgery in a foreign environment. This time the verdict was clear. I needed to undergo urgent decompression of the cerebellar tonsils, because my clinical condition had worsened. According to the two doctors there were no surgical indication for the Sectioning of the filum terminale, so it was useless to insist on that.
I fainted 2 times and made up my mind. I contacted Insitut Chiari and on 14th November 2011 I went to Barcelona.
First it is my duty to clarify that my fears about a foreign environment disappeared immediately. The entire team of Dr. Royo made me comfortable immediately, making me feel at home. The next day I was operated and since then my life changed. Immediately after the intervention all thoracic and cervical pain disappeared. Not to mention the chronic fatigue has disappeared completely since then. Today, after 5 months after surgery, my life has changed profoundly. I have again become the woman of before, I seem to have come out of a dark tunnel and it seems that the last 8 years of my life no longer belong to me. I only have one regret of not having me operated before.
I take this opportunity to thank Dr. Royo, firstly for the deep humanity that characterizes him, in addition for his dedication to study a disease, which is still less understood.