Published by ICSEB at 24 March, 2001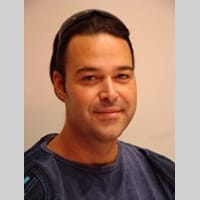 Date of intervention: March 2001

Hello everybody, my name is Jose Juan Jimenez Torres and I live in Cartagena, Spain. Dr. Royo (whom I call affectionately Mister Miguel), operated on me in two occasions.
I would like to thank Dr. Royo and his team for their professionalism and their way of treating me. I think that when someone is ill; 50 % of the help received comes in general from humanity, hope, the security that one gives you and of course the hands of Dr. Royo.
And I ask myself, being this my own thought: if the hands of the goalkeeper from the Real Madrid soccer team are insured for so many thousands of euros… For how much could the hands of Dr. Royo who has solved many people's problems be insured for.
Sorry if I extend myself too much on compliments towards Dr. Royo but as I say to him; he is "my" god and I thank god for having met him.
Ok, I´ll start telling you my story and I would like it to be beneficiary to people who have back problems and like in my own case, all doors closed on him/her.
I would like them to know, there is a door that can open and they should contact Dr. Royo because he has the key to this door that unfortunately others do not know how to open.
I started with back problems in the year 1998. I went to the social security, I had tests done and a disc protrusion was found at level L4-L5, Spondylolisthesis I-II grade, well to make a story short, I went to a neurosurgeon in Murcia and surprisingly was rejected by him and sent me to a Orthopedic traumatologist proposing me to have an instrumented arthrodesis done on me.
If I would have had it done, I would possibly be today in a wheelchair.
Even with medication my pain did not minimize or anything; the only luck I had was during one of my painful moments I went to the emergency ward of Cartagena, and was lucky to meet Dr. Victoria, who was the reason for how I met Dr. Royo.
This doctor said to me; José you are only 28 years old and have a whole life ahead of you, I now a neurosurgeon in Barcelona who is a very good specialist. The truth was, I won´t lie to you, I went to Barcelona being a little skeptical, since I continued having strong pain in my back and legs since two years and no one gave me any solutions whatsoever.
As soon as I arrived to Dr. Royo´s office, he sent me to get an MRIs done and as a matter of fact I had everything they had told me I had in Murcia but, Doctor Royo said to me that the problem did not come from the disc protrusions nor the Spondylolisthesis, "you have a Spina Bifida malformation and this is really your problem."
Logically I was surprised and asked him if it had any solution. Dr. Royo told me straight away with absolute certainty, "you have to have surgery and we can calm this pain you have", I couldn´t believe what I was hearing, I went from seeing everything black to seeing the light again.
And in the year 2001 I was operated on from: a Laminectomy L5, partial L4 and Foraminotomy bilateral.
The operation came out quite complex and laborious, but the result came out really good. I regained a normal life but of course being careful and had to forget about lifting up any heavy objects.
This year I started to feel discomfort in my thorax, loss of strength in my hands, and a stronger pain than before, this pain was stronger and more intense. As usual, I went to the doctor and told me it was a muscular contracture, so they started to give me massages and punctures (so as usual). I still didn't get better and worsened every time, and thought it was all related to a lumbar problem.
Logically, I didn´t think twice about it and went with my wife to see Doctor Royo. Already in the physical exploration, I was told that I had a cervical problem and sent me to have MRIs done and obviously confirmed it.
My diagnosis was a herniated disc C6-C7 left medial-par medial that conditioned compression on the medullary cone and left root C7.
In that moment the clock came again to a stop. My wife started crying, I was speechless, and the doctor calmed us down with his incredible patience, since this situation was little tense.
Because this operation was of high risk for the medulla, he started to calm my wife commenting on how he knew everything was going to come out well, and I tell you with all my heart, I looked at him and said: Mister Miguel, I entirely trust you. Two weeks later he operated on me.
On March 24th, 2009 I had a cervical C6-C7 disectomy surgery done with a titanium box.
The surgery came out to be a success; thank god I decided to have the surgery since the doctor told me when he came out of the surgery room that the disc was totally broken. I don´t even want to think about the possibility of becoming stiff from the neck and downwards. I am actually still recovering little by little, but doing well.
The last thing I would like to tell you is about my daughter, which is the most painful thing for my wife and I. My 13 year old daughter, Omara, suffers back pain, cannot stand up for too long and has urinary incontinence during the night. We have had MRIs done and the traumatologist from Cartagena (Spain) tells us she has nothing and besides she didn´t even want to write certificate to avoid her doing physical exercise at school. Well, it seems like the little girl has a tense filum terminale syndrome and must be operated on. Anyone who has children will understand me and of course soon Dr. Royo will operate on her because we fully trust him and we assume he will treat her like if she were his own child.
The intention of telling about my case is to encourage you and that you do not have to be afraid. I wish we had 100 doctors Royo in Spain!
If anyone wants to ask me something or simply talk about this, my email address is: [email protected]
Best regards to everyone and cheer up.