Published by ICSEB at 23 April, 2012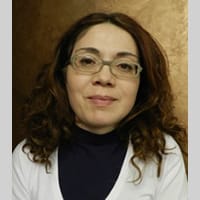 Surgery date: January 2012

My name is Monia, I am 38 years old and live in Italy.
My experience starts with the report of a MRI of the entire spine, due to an annoying backache that would not leave me alone and that I would define as "strange", since the pain wasn't confined to the back, but it would also radiate to the thoracic region and sometimes it would not let me breath properly.   I must say in advance that I had suffered respiratory difficulties in 2007, a lump in the throat, with the sensation of not being capable to let the air enter my lungs, and this problem of mine was defined as "panic attacks". In the report of the MRI they spoke of a "suspicion of dorsal syringomyelia".
I would like to thank the neuro-radiologist who advised me to repeat the MRI with a higher resolution machine, and who pointed me in the right direction in my search and understanding of my problem.
The report for the new MRI with contrast was the following: "dorsal spine from D4 to D9 shows a dilation of the ependymal canal, no signs of alteration of the cerebellar tonsils"; at the same time the pain was omnipresent and I noticed that my right knee would sometimes give way and that the right leg would get stiffer than the left one, additionally, when I bent down to the floor I would get dizzy and I noticed that my hands where stiff when waking up in the morning.
I approached a first neurosurgeon with my exams and received his opinion that my problem was of congenital nature; I explained my symptoms to the doctor, but those were not taken into account at all.
I was advised to practice more sports, to relax and to not think about it too much (all this orally, because I wasn't given anything in writing).
A few months later, the symptoms always present, I approached another neurosurgeon, who said more or less the same thing as the previous one, and this time I was also given a certificate. I also consulted a neurologist, who suggested to get evoked potentials done in order to assess the suffering of the medullar spine; at the same time I decided to send my exams to the Institut Chiari de Barcelona for a consultation at distance.
I discovered over the Internet that Dr. Royo has studied the pathology (Arnold Chiari with or without syringomyelia and much more) for a long time and has operated on a lot of people with good results. I would like to express my heartfelt gratitude to all those patients seen and operated by this great doctor who have made available their experience and testimonial, sharing them with others, and who have so been able to inform themselves better regarding these pathologies.
THANK YOU Rita, Rosanna, Pietro and all the others.
In the meantime my symptomatology kept on getting worse, the headache got stronger, I had vertigos more frequently and difficulties to swallow saliva, with the sensation of having a limp in my throat and I would have nauseas several times a day; when waking up in the morning with intense pains in back and thorax (if I had been able to sleep), I realized that my situation was changing (for worse).
The reply from Institut Chiari de Barcelona arrived before Christmas 2011: the dorsal syringomyelia was confirmed, but at the same time they added that there was a descent of the cerebellar tonsils, I made an appointment for a consult with Dr. Royo in January, and I had the sectioning of the filum terminale surgery on January 31st 2012. Just eight hours after surgery, some improvements were obvious: I recovered the temperature sensitivity in the right hemithorax, I was able to maintain for a certain time the lower extremities lifted up (before the surgery this was impossible), the uvula and tongue went back to their centered position, whilst before they had been diverted towards the left.
I would like to recommend patients to go at least for an examination to Barcelona at the Institut Chiari, directed by Dr. Royo and his extremely valuable team (psychologist Gioia Luè, Dr. Fiallos, and everyone else) as they carry out  a truly complete neurosurgical examination, in my opinion.
I had to realize there that I wasn't able to maintain the lower extremities lifted up (Mingazzini with claudication of the lower limbs), that my abdominal reflexes were totally abolished, that the thermal sensitivity in the right hemithorax was altered, the Babinski sign positive, that I had no strength in arms and hands…etc…
Every patient in his condition has to live additionally to the physical also with the psychological suffering, and always expects to find humane, apart from competent, people on the other side, that won't lessen nor underestimate what they are going through.
I hope that every patient with a rare pathology will be able to find someone on their way that will listen and guide them towards the right solution. Dr. Royo was one of these persons for me, and I offer him all my appreciation and respect. I hope that there will be more and more doctors less dedicated to the routine and opener to research; the suffering of few people affected by unknown diseases is not of an inferior level and therefore less important than that that determines a known pathology.
I am available for those who may need it: [email protected]