Published by ICSEB at 23 April, 2012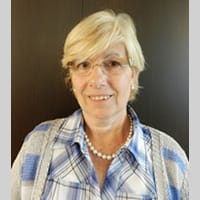 Date of surgery: March 2012

My name is Mercedes Magriñá, I am 61 years old and I live in Pineda de Mar, Barcelona, Spain.
I would like to tell my story so that all those people that may have doubts can the decision that may well be the decision that will improve their lives completely.
I had my first back surgery due to scoliosis when I was eight years old, they placed a spring in-between the vertebras in order to level my back out, at the age of sixteen I had another surgery because they had to take it out since it had broken into parts at six different points. Some of these points are still inside my back because it seemed complicated to the doctors to take them out.
Ever since I can remember I've lived with pain and cerebral pressure that implied migraines that would last for days.
I really started to deteriorate from the age of 30 onwards; it started with numbness in my legs, hands and forearm, loss of sensitivity in entire right half of the body.
I was diagnosed with syringomyelia at the age of 38. It was only when I had surgery that I found out that I also had Arnold Chiari Malformation.
After the surgery due to syringomyelia at cervical level, they had to perform surgery again after 12 days, because the muscular plug placed on the obex wasn't good.  I spent more than 3 months in hospital, a time during which they extracted spinal cord liquid for analysis during 25 days.
Not only did I not get better, but also I kept getting worse and worse. The loss of sensitivity was total, I couldn't walk, and I lived in pain, tiredness and fatigue every single day.
Unfortunately the doctors told me (even after I explained the alternative to stop the disease proposed by Dr. Royo) that I was dealing with a degenerative disease and that nothing could be done and that unfortunately I would end up without any mobility in my body.
Dr. Royo as well as his entire team cleared my doubts from the first moment on, and the dedication and the good treatment that I received are especially worth mentioning.
A few hours after surgery I had regained part of my sensitivity, strength in the hands, I had no pain in the legs…
This evolutionary process kept getting better eliminating the cervical pressure completely.
This surgery did not only take away the pain but it also returned the will to live to me, I take on my everyday life with illusion, I feel like doing things, whilst before I was sunk in a profound depression that generated the daily pain.
I want to thank Dr. Royo and his team (Bárbara, Dr. Fiallos) for giving me back my smile, to me and to my family who had been suffering from this indirectly for so many years.
Special thanks to Bárbara for her caring and affectionate way of treating me and the feeling of trust that she creates.
I hope that this testimonial will help many people. If I had only known earlier about this alternative…