Published by ICSEB at 10 November, 2015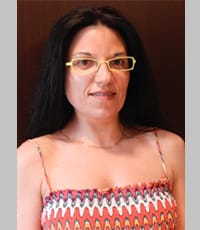 Surgery Date: July 2012

My name is Maria Sol Prado Pérez. I am 49 years old and I currently live in Ponferrada (Leon, Spain). 4 years ago I was operated with the technique of the Sectioning of the Filum Terminale at the Institut Chiari & Siringomielia & Escoliosis de Barcelona by Dr. Royo and his team.
I want to share this experience because it might help somebody affected by this disease.
I did not know that I had this disease as I never had had any symptom that could make me suspect that I was suffering from it.
It is a result of a traffic accident that occurred in November 2009, when after performing several clinical tests I was diagnosed with the following physical problems, amongst others: A / chronic neck pain, B / cervical stiffness, C / postural dizziness, D / sensation of hypoaesthesia in the upper right extremity, for which I was prescribed medical and pharmacological treatment based on rehabilitation, analgesics and muscle relaxants.
Throughout the prescribed treatment, the problems kept on increasing and the symptoms were being derived to the following symptoms: A / Cervical stiffness, B / Pain in cervical area, C / hypoesthesia in the right arm, right hand and mid back, D / Difficulty in swallowing solid foods, E / discomfort in the right ear.
As they continued and the aches and pains were increasing widely, after some time, I went to a medical centre where they decided to do MRIs of skull and thoracic spine. The result was the diagnosis that I was suffering from the pathology of Arnold Chiari and Syringomyelia .
In view of the diagnosis I decided to go for the surgery at a clinic in León, in which I was proposed an intervention by the technique of Suboccipital craniectomy with durapatch, in which the expected postoperative hospitalization was of about 8 to 12 days.
However, due to problems of scheduling of the operation, after a wait of 3 months I could not be operated. That is why I decided to ask for a second medical opinion and after a search on Internet I discovered that there was a clinic specialized in this pathology, Institut Chiari & Siringomielia & Escoliosis de Barcelona.
I contacted them on telephone and sent them all my reports that I had and I was diagnosed, without any doubt, the pathology of Arnold Chiari and Syringomyelia. They advised me go through a simple surgery with the minimal days of hospitalisation.
Some days later, after reserving the appointment for the surgery I went to Barcelona, where the centre is located, and I was operated. I was discharged on the very next day of the day of surgery.
Following the procedure, between the same day and the next day I noted that all my symptoms had almost or completely disappeared and my general condition was very good.
After the first check-up, both Dr. Royo as well as Dr. Marco were surprised a lot by my improvement.
Now I can lead a normal life, having recovered almost entirely in the pathology that I had.
In my opinion I think the technique by which I have been operated, Sectioning of the Filum Terminale, is currently the most convenient technique, for the immediate benefits that it produced in me, considering that it is fast, with a minimum stay in the clinic, in my case only one day, and I think it can be a convenient choice for any person suffering from this disease.
Finally to thank Dr. Royo and his team and the entire clinic staff for the professional, kind and caring treatment they have given me.