Published by ICSEB at 29 April, 2016
MR images of Melaine
Before the SFT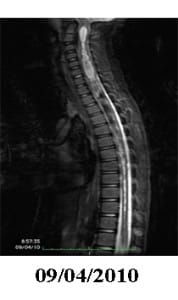 After the SFT
Video Testimonio de Asibe
Asibe Asllani. Cord Traction Syndrome. Descent of the cerebellar tonsils (DCT). Idiopathic Scoliosis.
Melanie Ambrogi. Cord traction syndrome. Descent of the cerebellar tonsils (DCT). Idiopathic Syringomyelia.
Jennifer Ambrogi. Cord Traction Syndrome. Descent of the cerebellar tonsils (DCT). Idiopathic Scoliosis.
Valentina Ambrogi. Cord Traction Syndrome. Descent of the cerebellar tonsils (DCT). Idiopathic Scoliosis.


My name is Asibe Asllani and I am 43 years old. I was born in Albania, but since 1994 I live in Italy. Here, in 1995, I met my husband Valentino whom I married few months later. We have three daughters, Valentina born in 1996, Melanie and Jennifer, twins, born in September 2004.
The story I am going to tell may sound incredible, however I went through it myself and therefore I would like to share it in order to relieve a bit the load I was carrying all these years and also to give hope to those who may be going through a similar situation.
Everything started with the delivery of the twins, when my physical problems, which I had been feeling before, since I was 14, got worse. After different tests and exams I discovered that I had a severe kyphoscoliosis, what could explain the protuberance that I had on my back since I was a child.
I started several physiotherapy cycles in order to relieve the pain I was feeling in my back, however the treatment was helping only for short periods of time. In fact, each time I stopped the cycle, the pain was back.
I have also tried different analgesic therapies that were not helping much either; to the contrary, they have caused me a hiatal hernia of 4th grade.
Around this time Melanie, who was not even one year old at that time, one day of September 2005, had three convulsive crises in apyrexy. After her initial admission to the hospital in Gubbio, she was urgently transferred to the hospital in Perugia.
After various exams it came out that she had an active cytomegalovirus, Mediterranean anaemia and rotavirus, and the doctors were sustaining that the convulsions she had suffered from were the symptoms of that.
From my side, I asked to perform a resonance in order to analyse better the health state of Melanie, due to the fact that she was only 11 months old.
The resonance showed that Melanie was suffering form the "Arnold Chiari" type 1 malformation, but the doctors were saying that it was nothing serious.
The baby was growing slower compared to her twin sister Jennifer, she was late to walk and suffered from constipation. Later, in 2006 when she was 2, we repeated the resonance that confirmed the diagnosis of the syndrome.
I could not stay calm any more as I was seeing something strange in what was going on. For that I have asked for a neurosurgical consultation during which the doctor got rid of me saying that I was a too apprehensive mother.
Melanie started getting worse, she was continuously crying, bending in half because of the pain. In March 2008 I asked to repeat the resonance for the third time, which at this time revealed also a Syringomyelia from C4 to D7.
Since her first admission to the hospital in Perugia, Melanie was transferred to the Gemelli hospital in Rome, where on the day of my 39th birthday she was submitted to the first surgery of a suboccipital mini-craniotomy, lysis of the tonsils and plasty of the dura mater.
Three days after the surgery Melanie started to lose the liquid through the wound and they kept her for observation and therapy for 20 more days.
They performed a control resonance on the 30th of May 2008 and took her for another surgery of a cerebrospinal fluid fistula.
After a week she was discharged form the hospital and we went back to Gubbio. However, Melanie kept feeling sick and she was loosing the balance even when seated. After another resonance we discovered that the Syrinx have had extended and was now from C1 to D11.
Together with my husband we started to go around Italy asking for opinions of many doctors and specialists from Udine to Bologna and from Florence to Rome. They all were suggesting another head surgery but we decided not to submit our daughter to another similar procedure.
This way we arrived in summer of 2010, when during a town festival we met two people who were talking exactly about this disease. One of their acquaintances solved a big part of her problems during a minimally invasive surgery in a private facility in Barcelona.
I researched more information about the disease on the Internet and I was surprised that there are so many people in the world affected by Arnold Chiari. Bravely, but also with a lot of fear I started to take seriously the possibility of taking Melanie to Spain. However, before, I wanted to meet the lady, a fellow citizen, who had the surgery.
I took her contact and after some time I had a very special meeting with Rosanna Biagiotti, who beside welcoming me with kindness and availability also explained me way more about the disease she was suffering from than the doctors I had consulted. After telling her my story and the torturing path that we had been facing with Melanie, she convinced me to directly book an appointment with the doctor who performed her surgery.
In November the same year, together with Melanie we travelled to Barcelona. I was full of hope to find the answer for our daughter suffering there. While we were sitting in front of the Doctor, Melanie was drawing his and another doctor's face on a notebook sheet and Dr. Royo was studying all the resonances I brought with me.
He suggested performing Melanie's surgery immediately for there was an imminent risk of cardio-respiratory crisis, as she was suffering from sleep apnoea, which could cause her death. The Doctor explained in detail what the surgery (the sectioning of filum terminale) consisted of and of course its costs.
After the initial disconcert, as our financial conditions were not enough to pay the required amount – please keep in mind that at that moment my husband was unemployed and I was working only part time – I decided that I had to do whatever it takes in order to proceed with Melanie's surgery. I was seeing in that Spanish adventure, in Dr. Royo's words and in the testimonies of people who recovered well after the surgery, the only possibility that was left to save Melanie.
I went back to Gubbio with the exact intention to find the necessary founds to cover the costs of the surgery. Right away I contacted the priest from my parish that, together with the girls' paediatrician, decided to help me.
They put me in contact with the "Agnese" Association, which was responsive to my situation and disposed to fully cover Melanie's surgery.
Within few weeks the money was collected and within a month Melanie, my husband and me were on our way to Barcelona. This time it was noticeable that the hope that I have not lost during all this time was about to pay me back for all the fear and fatigue I went through.
Melanie had the surgery of the sectioning of the filum terminale in December 2010 and right away we were able to notice big positive changes. She was saying that she was ok, and she was not crying any more!
Within 3 days after the surgery she was discharged from the hospital and we went back to Gubbio. It seemed like it was all going to be well, as Dr. Royo told us, and it was! I could not believe it!!! Many of the symptoms Melanie had before the surgery have disappeared… Melanie was starting to live!!!
In January 2011 we went back to Barcelona for the check up and we also took the twin sister Jennifer, who until then was not having any symptoms.
Since the first meeting, Dr. Royo asked me to bring all the resonances I had, also those of myself due to my scoliosis, for it was very probable that my problems were also associated with this malformation.
Until then my biggest worry was Melanie, and consequently I did not provide what he asked me for. I had also been convinced that even if I were operated, it would not help my scoliosis for it was very advanced… Therefore, I was postponing my turn.
What was more important for me at that time was Jennifer and so we asked for a detailed resonance of her spine. It revealed that she also had been affected by the Arnold Chiari malformation with oedema and spinal cord traction.
Two months later Dr. Royo was at a congress in Italy, and in order to avoid another trip to Barcelona, we went to Trieste with Jennifer's results to meet him there.
Royo confirmed the same pathology in the other twin, and therefore I repeated the same steps I took in case of Melanie, I contacted again the Agnese Association, which again decided to cover the surgery.
On the 21st of December 2011 Jennifer had the surgery and everything went perfect.
We went back to Barcelona for a control check up in February 2012, and at this time I have brought my own resonances and also the results of my oldest daughter Valentina, who at that time was not having any symptoms.
Dr. Royo explained to us that it was probably me who had the Arnold Chiari malformation at first place and, being a genetic disease, I passed it to my daughters. Consequently, Valentina and me also had to have the surgery.
I spoke again with the Agnese Association who again was willing to pay, this time for Valentina's surgery. For my intervention on the other hand the ADA Association started to collect founds.
I went through the surgery first, on 22nd of May, accompanied by my dearest friend Debora, and within a month Valentina closed the cycle.
With a big surprise, as I was experimenting it on my own body, I realized that the surgery was providential for my condition. In fact, even though the scoliosis was still evident, I was not having the pain I had had before the surgery, I felt more alive physically and spiritually… I had much more strength and I could not figure out where it was coming from.
At that time I was very happy, and now after several months have passed, I am even happier. This experience let me to meet wonderful people who helped me and supported me giving me the strength and courage to face it all.
I am very grateful to Agnese and ADA associations that covered the costs of the surgeries, Don Luca, UNITALSI, Dr. Panata, Dra. Marzia Leonardi, Rosanna Biagiotti, and many others. You all have my gratitude. And above all I would like to thank God who gave me the hope and faith.
In fact, today I am going to start the catechesis for adults in order to receive the baptism and the Christian sacraments… a way to thank Him.
+39 3292971877