Published by ICSEB at 18 September, 2014
---
Le Journal de Saône-et-Loire,
Mâcon France,
14/09/2014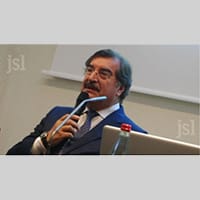 This past Saturday, 13 September, the Spanish Neurosurgeon Dr Miguel B. Royo Salvador followed the association AMIS des MOM's  invitation   to Mâcon, France.
The main objective of the conference was focused on presenting the "Filum System®", a method developed by Dr Miguel B. Royo Salvador; a procedure that is less invasive for patients suffering from Arnold Chiari I Syndrome, Scoliosis and/or idiopathic Syringomyelia.
These three conditions – so the Catalan Neurosurgeon- share a common cause, namely the anomalous traction of the Filum Terminale.
The meeting ended with Question and Answer session and the chance to consult their specific cases for families who attended the event.
Find out more: