Published by ICSEB at 24 March, 2017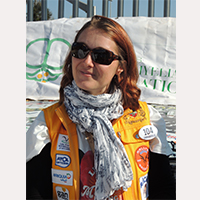 Surgery date: April 2013

"Don't let the disease dictate your life"
French patient Emmanuelle Tarquini tells us in this interview about how she was diagnosed with the Arnold-Chiari Syndrome Type, the difficulties she was facing and about her participation in the Rallye Aïcha des Gazelles, the only off-road competition worldwide exclusively for female drivers.
–
How were you diagnosed with the Chiari I Syndrome?
Tarquini – I began having very violent headaches in late 2012 and pain medication would not have any effect. These headaches became permanent and other symptoms were appearing gradually.…
After a hospital stay in France, I got an MRI scan in the beginning of 2013 and was diagnosed with the Arnold Chiari Syndrome, but without any further information.
How did you come to ICSEB?
Tarquini – I saw different specialists but they evidently did not know the condition. So I decided to go on the Internet and found information about the Institut Chiari & Siringomielia & Escoliosis de Barcelona (ICSEB) and found patients that were operated in France and at ICSEB. After seeing the testimonies, I got in touch with Barcelona as it seemed like the right option for me. The professionalism and the quality of the service and reception made me feel comfortable about my decision. I also met people that are very involved with the AI.SAC.SI.SCO association who helped me very much.
What were the first years after the surgery like? How do you feel now?
Tarquini – Immediately after the surgery, the discomfort I was feeling when I walked had disappeared, I had recovered strength in my arms and the paraesthesia disappeared. I had an important car accident with a cervical whiplash a month after the operation so the headaches are still there, but the painkillers help to lower the pain level now.
The disappearance and/or easing of the symptoms was very clear during the first three years after the surgery, I think that everything is starting to stabilise now. And I feel much better than before the procedure; I am very satisfied with my choice to have the surgery at ICSEB.
How did you get the idea to participate in a rally?
Tarquini – It had been my dream for a long time, I am a car enthusiast, I dreamt with taking part in the Gazelle's Rally. When I was told about my disease I thought that it would never come true. It was a co-worker I befriended who pushed me to believe in it. A week before my operation, she challenged me to go for it together if the operation was efficient. And it happened: after the operation in April 2013, we left for the rally in March 2015!
How can your participation in the rally help others suffering with this disease?
Tarquini – For me, my participation has several goals:
To show other patients that the strength that we gain whilst fighting our disease can also help us to face challenges that my seem inaccessible.
To show all those sceptical of surgery they perform at ICSEB that it can really benefit the patients; in my case I would have never been able to do the rally before the procedure.
To make the best of this Rally's fame and talk about our diseases and the treatments that exist, such as the Filum System® and make the associations' actions to help patients more visible.
What is your routine like before, during and after a rally?
Tarquini – Before the rally, we have the preparative phase: physical, mental and logistical, we have to plan and foresee things so that we get as few surprises as possible during the competition, to make things as easy as possible so that we can concentrate to the full during the race.
During the rally: we get up at 4:00 AM and go to sleep at 11 PM and all the ours in-between are filled with the race and the rest of daily tasks: vehicle maintenance, meals, shower,…!
The phase after the rally is a little difficult, returning to reality, but at the same time it is a time of euphoria for having achieved the dream and such a demanding challenge.
How do you assess your physical state and state of mind after your participation in the last rally?
Tarquini – When I took part in the 1st rally, it had been less than two years since I had been operated and I didn't feel confident that I was going to make it through such a physically and morally challenging competition. I was impressed by seeing how my fight against the disease had given me the strength to move mountains! I realized that my good mental balance allowed me to pull through until the end, and with a good qualification on top! My acknowledgement of ICSEB grew even further as I was able to measure up to what point the surgery had been beneficial for me.
Would you like to leave a final message to end the interview?
Tarquini – My message is for the ICSEB in the first place, this whole adventure would not have been possible for me if they had not been there to give me the chance to live my dreams!
And then, my message is to the patients: trust in yourself, in your strength, believe in your dreams and don't let the disease dictate your life, your struggle gives you a strength you can't even imagine and you will be surprised to see up to what point you are able to go beyond!
And to those who still have doubts about the effectiveness of operation at ICSEB I will just say: look at my story and you will be able to confirm that this surgery is not a placebo.