Published by ICSEB at 4 April, 2006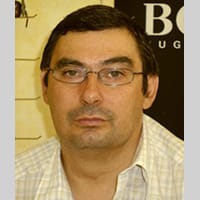 Date of intervention: April 2006

My name is Manuel Márquez Mulero, I am 42 years old and I live in El Puerto de Santa Maria (Cádiz). I am going to narrate what I have suffered from a disease during two and a half years. The operation that I went through and how I feel after a few days… It all happened in September 2003, the alarm clock rings like everyday to go to work but the only difference was that I could not get up. My legs wouldn't respond. After having gone to the doctor to get examined, they diagnosed me with a lumbar crisis and told me to just rest and not much more. From then on I started to lose strength in my legs and in consequence falling. At the beginning it happened little by little but as time went by, it happened more often. I even fell 3 to 4 times a day. I got scared, so I visited the doctor again. As time passed by, I felt worse, physically and mentally. The doctors did not give explanation as to why I kept on falling. Some of them said it was caused by dizziness and others simply didn't know why.
My life was limited, I could not bend down without noticing a strong pain on my back, I could not get dressed by myself, I kept without sleeping night after night because of cramps in my legs and also suffered from tachycardia. The simple thing such as walk up a stair was a daily challenge for me.
I lost sensitivity in my hands, at 42 years of age I felt like an invalid without a wheelchair. After a few months they detected me a herniated cervical disk but continued without knowing the reason why I kept on falling which concerned me the most. After asking for a second opinion, they detected the Arnold Chiari I disease, which was the cause of the falling, and all the suffering I was going through.
I was told it could only be cured with surgery and should react as quickly as possible. Doctor Miguel B. Royo Salvador whom has brought back my family and I our happiness. He books an appointment for me through internet and after confirming his suspicions, I go back home with a following visit with him, this time to have surgery done.
The surgery consists of cutting the tendon through a small opening in the inferior part of the column to stop the tension and stop the pulling of the brain downwards and of the herniated cervical disk. This is done through the front part of the right side of the neck liberating the trapped disk in between the vertebrates and place at the same time titanium prosthesis. Since the next day I started to notice improvement. First my back pain disappeared and I could move my legs however I wanted. I did not have that heavy feeling anymore. Little by little I started to feel better and could tie my shoelaces again and had sensibility all over my body, being able to walk for hours without getting tired. The distress and tachycardia disappeared, I didn't lose my balance anymore and my hands were not asleep. I can pick up heavy things without falling and I am feeling better every day thanks to Dr. Royo.
E-mail: mulero2004@hotmail.com